Rear-Entry vs Side-Entry Mobility Vehicles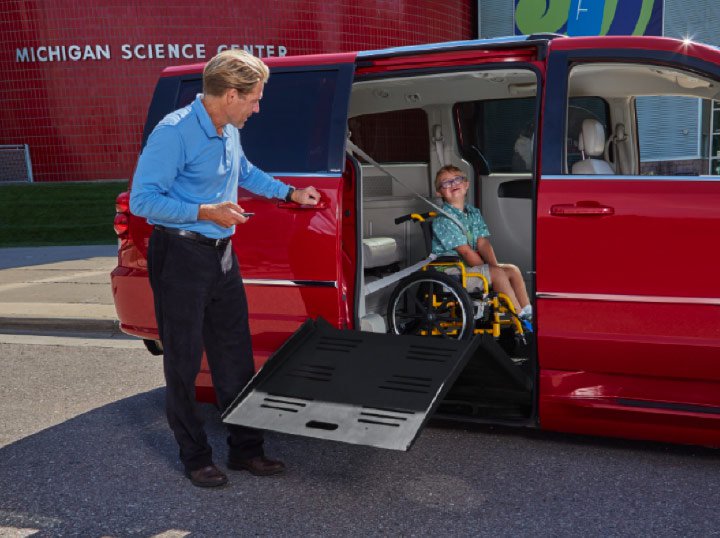 Sales Hours
866-594-4000
| | |
| --- | --- |
| Monday | 9:00 am - 8:00 pm |
| Tuesday | 9:00 am - 8:00 pm |
| Wednesday | 9:00 am - 8:00 pm |
| Thursday | 9:00 am - 8:00 pm |
| Friday | 9:00 am - 8:00 pm |
| Saturday | 9:00 am - 7:00 pm |
| Sunday | Closed |
If you've been looking into getting a mobility vehicle for yourself or a member of your family, you've probably come across vehicles mentioning rear entry or side entry. At Sherman Mobility Superstore, we want to help you out in deciding which one might work best for you, according to your needs, since both styles offer conveniences for different situations. Keep on reading and learn more about them!
Side-Entry Mobility Vehicles
These types of vehicles can be outfitted with a manual or power ramp, as well as a lift, hoist, and/or carrier. Side-entry vehicles are also ideal if you want to seat the person in the first row, as this type of entry enables easy access to the front passenger's seat or even the driver's seat if they are to be operating the vehicle. There's also the perk of having storage space in the back of the van for luggage, shopping bags, and any other belongings, as well as an additional seating area for more travel companions. As a downside, side-entry mobility vehicles need to be parked in designated handicap spots in order to have extra clearance to exit and enter the cabin. However, they do have the perk of being able to parallel park.
Rear-Entry Mobility Vehicles
For their part, rear-entry mobility vehicles offer the advantage of not requiring extreme conversions and can be parked in regular parking spots that allow exiting through the back door. It's excellent for cases when the wheelchairs and scooters are particularly large and require more room to maneuver. Vehicles with rear entry also make it easier for a person to propel a wheelchair up the ramp by themselves, since it usually presents a more moderate incline. Manual or power ramps, or a lift can be outfitted in these types of vehicles as well. Nonetheless, the downside of rear entry means that there's no access to the front row seats, therefore rendering it inconvenient if the person in the wheelchair means to be the driver. It also limits, if not completely annuls the existence of cargo space.
Find Your Preferred Mobility Vehicle with Us!
Whether you end up opting for a side-entry mobility vehicle or a rear-entry one, you'll be glad to find affordable choices here at Sherman Mobility Superstore. Our vast inventory boasts many new and used options for your convenience. If you have any questions or need help finding the perfect vehicle for you, contact us by filling out our online form or come visit us today at 7601 N. Skokie Blvd. in Skokie, IL.
We hope that our explanation about rear-entry vs side-entry mobility vehicles has helped you with your decision. We look forward to your visit here at Sherman Mobility Superstore!